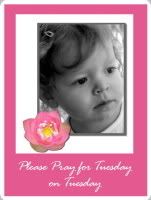 Angie,
I have been a lurker of your (AGD) blog for a little over a year now. I love how you share yourself, your LOVES, your compassion. Thank You for that. I have come to believe throughout the last year of reading your thoughts and all that you share here on these pages that you have many GOD GIVEN GIFTS and you use them for HIS GLORY, I ADORE THAT ABOUT YOU! With that said, I am wondering if you would do a post asking for PRAYER for this family during their time of need, thank you for considering this. I would do it but I don't have a blog, much less the gift of beautiful writing like you. Their story just crossed my path today. Warmly, Angela(Yes, we share the same name)
____________________________________________________________________
To my prayer warriors (from Angie): I don't know much about this family but I took a few minutes to skim their blog and read their story. One of her Mother's posts from back on December 30th really stuck out to me. Actually, it brought me to crippling tears (for use in the mother's own words). Her post was short that day but read...
The fight is on.
New Chemos vs. New Tumor
Heavy Morphine vs. Crippling Pain
Will vs. Odds
Love vs. Fear
All I know, is my money is on the cute, bald girl.
Thank you all for your prayers. Thank you, Thank you, Thank you.
Then, the last post her mother wrote just yesterday - almost one month later - included and was this:
My deepest fears were confirmed. Tomorrow (Thursday, January 29th) we take our precious daughter home. Her cancer doubled in size in less than a week proving once and for all that it is horribly aggressive and no longer chemo sensitive. We have no idea how to do this but we have no doubt we will be cared for every step of the way. This is all I have in me. Please pray for peace for our children, our parents and our siblings. Tuesday, full of grace, you are our so very loved.
So...while we are all rushing around cleaning house, playing on the computer, running errands, getting our kids off the bus and bringing them inside our warm lively homes this afternoon...just know that their is one more family out there letting go of their precious child. Their daughter will get her wings today. Please, please, please pray for this family today and in their days ahead.
In him. Angie