UPDATE AS OF JANUARY 11th, 2010: I am literally hollering this at this time. Thank you all for your prayers. Alicen finally came home from the hospital on Tuesday January 5, 2010. She has been so happy since coming home, giggling all the time. She is officially weaned off of the Methadone and the Lorazapam now. That was a little scary to be responsible for such a powerful narcotic. But thank the good Lord, she is off of it now and is doing really good. We have a follow up with the pediatrician but I'm going to wait till it warms up before I get her out of the house. At this time it is about 19 degrees. Ha Ha. And thanks to all who sent the ecards. I think she received about 300 of them. There was even one from the Philippines. I was totally blown away at the amount of prayers that were sent up for Alicen and I'm so thankful. I wish I could thank them all personally but I will have to ask you to do that for me. Again, thank you so much for all you have done for my little family and for most importantly the prayers. Love ya, Christina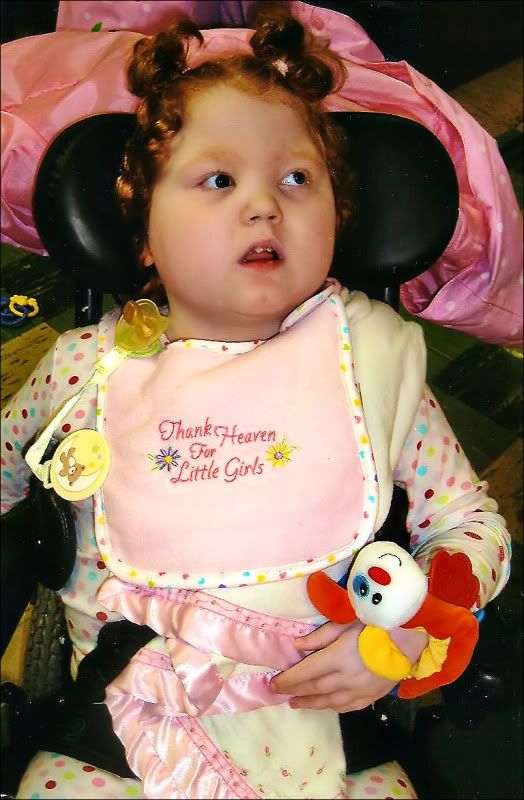 Here is some information on the angel baby, or who I affectionately call TURKEY TOES...
Alicen was born 4 months premature weighing only 1 lb and 13 ounces. She was in the NICU at Carle Foundation Hospital in Urbana Illinois for 111 days. She has since been diagnosed with many disabilities. They include Cerebral Palsy, Epilepsy, Plagiocephaly, Bronchial Pulmonary Dysplasia, Chronic Asthma, Chronic Pneumonia, Dysphasia (failure to thrive), she has a JG feeding tube, she feeds continuously through the night from 5pm through 6am. She is legally blind, she cannot walk, sit up, roll, but boy does she kick and holler like a trooper. She so vocal that she lets everyone know that she is here, bless her soul. That saying (NOT BEING ABLE TO SPEAK IS NOT THE SAME AS NOT HAVING ANYTHING TO SAY) truly suits her to a great big capital T. Anyway, she is totally dependant on us for all of her needs, she is wheel chair dependant. I had a nurse tell me at one point that it looks like Alicen was swimming in a dry puddle because she is constantly kicking and going is circles, how cute is that?
Her favorite tv show is (are you ready for this??) The Young and the Restless soap opera, she giggles all the way through it. We have to turn the volume almost all the way up in order to hear it ourselves. She also LOVES the commercial for Hillshire Farm, Go Meat, I say hillshire you say farm. She giggles when she hears it. She had had Many many hospital stays in her short life and she comes out of the hospital just as happy as she was before she got sick. This child has to be the happiest baby in the world, and by far the most beautiful little red head as well.
She has had many many hospital stays in her short life and she comes out of the hospital just as happy as she was before she got sick. This child has to be the happiest baby in the world, and by far the most beautiful little red head as well.
On Tuesday December 15, 2009 though, she was taken to Sarah Bush Lincoln Hospital emergency room by ambulance and within an hour of arrival she intubated and put on a ventilator due to respiratory distress, her O2 level was at 56 and her heart rate was way over 200. The arranged to have her air-lifted and St. Johns sent their helicopter team to Mattoon. They could not get her stabilized for almost 2 hours so they could transport her. I have never been more scared in my life. The helpless feeling a mother has to watch her daughter laying in a hospital bed is bad enough but the feeling I had watching her almost die is totally indescribable, something I would not wish on anyone.
At this time December 22, she remains at St. Johns Children's Hospital in Springfield, Illinois. She is in a paralytic coma and is very heavily sedated. They are taking xrays each day and they are showing small improvements, Praise God. We need so many prayers for her right now. God has given her doctors the knowledge to treat her but it is God who will heal her and I firmly believe that. My husband, Derald, is laid off so at this time he is staying at the hospital and I go up every couple days to be with her so he can go home. I'm out of vacation and sick time at work so when I'm gone it is without pay. We cannot get Alicen on Social Security because they say we make too much money, can you believe that? Me neither.
Beings that Alicen is still in the hospital, I'm doing what I am calling "WRAP THE ROOM". Anyone can go on the hospital web site and send her an e-card and I'm hanging all of them in her room. I've also decorated her room with Christmas decorations. She has never been away from home on Christmas before and I want to make it as much like home that I can. Your readers can send an e-card to her by following these steps: Go to st-johns.org, click on children's hospital, click on send an e-card. Fill out the card with her info. Her full name is Alicen Wooley and her room number is the "Pediatric ICU." This is such a simple thing to do and it doesn't cost a cent but will make such a difference to Alicen.
Angie, I can literally feel the love that you have inside you as well as the love your blog followers have in them. I'm asking with all that I have inside me for prayers and thoughts for Alicen. (And the e-cards will be nice too!) Thank you for all that you do and most importantly, thank you for your prayers.
Christina (a preemie mom)
Labels: CP, daughter, Prayers for Alicen Wooley, premature birth